It is really important that you clean dog toys regularly.
Just like others your dogs also love to play with their favorite toys. They love shaking, fetching them, and they go nuts when you spend time playing with them with their toys.
Dogs keep their toys most of the time in their mouth therefore it is highly important to clean dog toys and maintain them for a long time.
But are you bothered about how to clean dog toys?
Are your cleaning methods all going wrong?
This sounds awful! But not anymore because we are here for you. Ready to suggest the right methods to clean your dog toys. All you need to have is pet-friendly laundry detergent and if not available, no worries you can also use baking soda or white vinegar. Spin these in the washing machine, and rinse them off.
How to Clean your Dog Toys?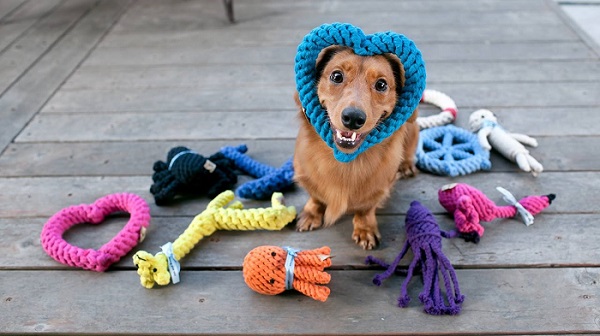 Disinfecting toys is important to keep our dog's health fit. It will become easy for you to now wash and clean dog toys because we have covered all types of toys in this article.
1. Cleaning Plush Dog Toy
Washing plush toys is as simple as tossing them in the washing machine. To clean dog toys with this technique easier than you may have even thought of.
Step 1 Put your dog's toy in the washing machine
Step 2 Choose any mild detergent of your preference. If you don't use any, you can just sprinkle baking soda and a few caps of white vinegar with the dog toys.
Step 3 Once it is clean, place it in the dryer and make sure to set it on low, or just let it air dry.
2. Cleaning Hard Dog Toy
You can wash and clean dog toys that are hard, simply in the dishwasher. Try following steps to wash hard toys.
Step 1: Load all your hard dog toys on the top rack and let them spin.
Step 2: Don't use a dish cleanser instead and use natural vinegar.
Step 3: Put some hot water and pressure will do the rest of the sterilization. It will kill all the unwanted germs and the vinegar will add an extra power.
Step 4: After you clean your dog toys, let it air dry.
3. Cleaning Rope Toy
The Rope toy quickly catches bacteria, mold and germs therefore it needs regular and tough washing. You can follow below steps.
Step 1: Use a wire comb to remove fur from the rope toy.
Step 2: Toss them in the washing machine and make sure it doesn't have any tags with it.
Step 3: Cycle them gently with mild detergent.
Step 4: Once it is finished, place them in a dryer and run in low heat for 30 minutes. Otherwise, you can also let them air dry.
Right Time to Throw Your Dog Toys
Toys are an essential playing part of the dog's grooming life. As dogs are active animals, and they enjoy playing with toys.
As pet parents, you will need to inspect and evaluate the right time to toss them or replace them.
If you find your dog's toy is heavily chewed, the stuff is popping out of the toy or the parts are dangling off. It means it is necessary to throw them now because if the parts and pieces are falling or breaking it can easily choke and block his intestine which is hazardous.
Why Cleaning Dog Toys is Important?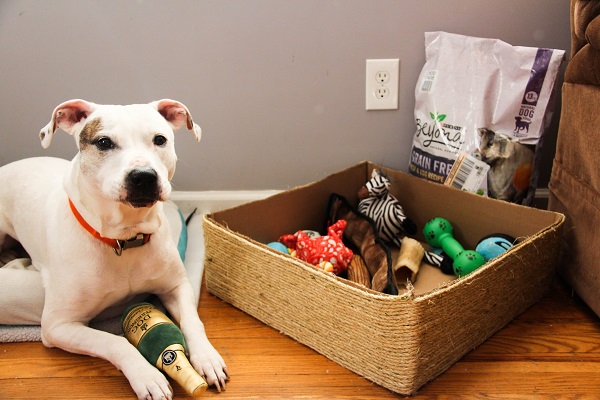 Ensuring proper sanitary conditions is good practice for animal health and development, therefore it is highly important to keep your dogs' surroundings and things he uses neat and clean.
Generally, the dog uses their mouth organ to play with their toys, it is significant that their toy should be clean and disinfected regularly.
But remember you not just have to clean dirt and firth, but also kill the bacteria and other microbes from their soft dog toys or chew toys.
Clean dog toys will assure the good health of your dog.
Hang on! Do you know what things to consider while purchasing your dog toys?
Safety Tips for Cleaning Dog Toys
Our cute dogs love to fetch, chew, shake and carry their toys along with them.
If you're thinking to gift some toys for your best friend you must consider the following things:
Make sure toys are easily destructible
Remember the rope toys are always intact
Avoid bells in the toys
Use good quality toy which doesn't tear or rip off easily
FAQs
How do I disinfect my dogs' toys?
There are several ways to disinfect the dog toys such as
You can clean dog toys either by using a pet-safe detergent
Try using half-water, half-vinegar solution
You can go for baking soda and water solution too
These are some ways by which you can disinfect you dog toys effortlessly at home.
Can you wash squeaky dog toys?
The standard and the best method to clean dog toys that are squeaky is to go for washing with hands. You just have to put some soap and water, rub them with a sponge till the dirt gets off.
Another super easy method is to simply toss them in the dishwasher.
Should you wash dog toys before use?
Yes! You should wash dog toys before use.
Remember to rise off toys properly because if the moisture in the toy remains it can lead to growing bacteria. This is not good for your pet therefore, make sure to dry toys before putting them back in your dog's toy bin.
Conclusion
Clean dog toys are an essential part of their grooming. Dogs are active animals, and they love playing, fetching, rolling, chewing their toys. They hold their toy in the mouth, so there is a high chance of germs entering their system.
Disinfecting becomes important for keeping their health fit!
To clean dog toy is super easy. All you just need to have pet-friendly detergent and water. Hurl your dog toys in the washing machine or dishwasher and the pressure will do the rest.
With the passage of time, it is highly important to replace their toys because it is hazardous. When toys are heavily chewed and the stuff is popping out of the toy you must replace them as they can choke their intestine.
Considering the above points, and you can easily clean dog toys at home.
Enjoying cleaning!
References:
Clean Your Dog's Toys Safely – Huff Post
PETS AND A CLEAN HOME – The American Cleaning Institute (ACI)
Keep baby toys germ-free with these COVID-19 cleaning tips – UT Southwestern Medical Center