Do you wish to make dog rope toys?
Is your dog getting bored very easily with his toys?
Do he likes chewing toys more than playing with them?
Do you also spend a lot of money on dog toys, and tired of it?
If yes, then you, my friend, are at the right place.
In this article, I have shared 3 DIY dog toys with rope that will solve all of these problems, you are facing today. Also, you can easily make dog rope toys at the comfort of your home. You will also find a Q&A section, where I have answered the most common questions on how to make dog rope toys.
So, without further-a-do, let's begin the tutorial.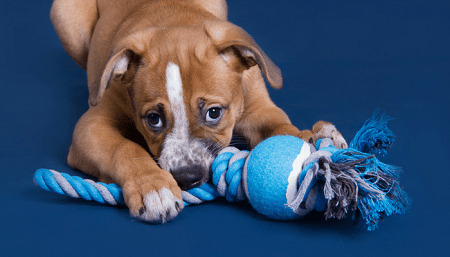 Why Making Dog Toys out of Rope is A cut Above?
If you look for dog toys, you will find that they are available in so many options. It is nothing but extremely confusing to find the right toy for your dog.
It is especially so, because most of the dogs gets bored from their toys and destroys them completely. To save yourself from this puzzle, I would suggest you to make dog rope toys in a few sets and give them to your dog on a rotational basis.
If you do so, your dog will not get bored easily and will enjoy his play time.
The real struggle is finding toys for heavy or aggressive chewers. Instead of playing with their toys, they like eating and chewing them. This is when, dog rope toys comes in the picture.
Dog rope toys are very helpful and comes out as an easy and simple substitute of expensive toys that does not last more than a few days.
Let's take your excitement to another level with these amazing and super cute dog rope toys.
DIY Guide to Make Dog Rope Toys
In this DIY guide on how to make dog rope toys, I have shared 2 floating dog rope toys that you can use near or in the water. Whereas, the third one is a dog rope toy that he can play with inside your house as well.
Let's begin the fun, shall we?
1. DIY Frisbee Floating Dog Rope Toys
This DIY Frisbee Floating Dog Rope Toys gives a new favor to your dog's most favorite game which is 'Fetch'.
I am certainly sure that you and your dog both needed a new twist to your very old game. That is why we are here. This new DIY Frisbee will be a great substitute of the old toy that you used while playing fetch.
This is just a 2-step process and is extremely easy to make dog rope toy. It will not take more than 10 minutes to make this Frisbee. You will be able to make a Frisbee toy of diameter 6.7 inches, i.e. 17 cm.
You will need:
110 inches (280 cm) long PP (Polypropylene) rope
Sewing Thread (Polypropylene OR Polyester)
Difficulty:
Step 1
Untangle the piece of PP (Polypropylene) rope that you are using to make the Frisbee. Instead of PP rope, you can even use Polyester sewing thread.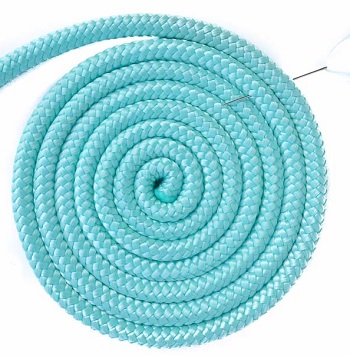 Step 2
Now, roll the PP rope into a circle and start sewing the rope together with a mattress stitches. Make sure that you are stitching two ropes at a time.
And that's it, you have your brand-new Frisbee dog rope toy, is all ready.
2. DIY Ring Floating Rope Dog Toy
This DIY ring floating dog rope toy is a ring shaped dog toy with knots in it. This is a perfect toy for your dog that you can use while playing near or in the water.
If your dog also loves water, this toy will be a perfect match for his needs. He will love this free floating rope toy. Don't you think that the floating ring toy for dogs is very much akin to the dummy dog toys?
The floating rope dog toy is made using half-square knots. It is akin to a basic macramé knot. The knots are formed by tying a series of left-handed and right-handed overhand knots.
The diameter of the ring dog toy is 2.8 inches, i.e. 7 cm.
You will need:
110 inches (280 cm) long PP (Polypropylene) rope
Difficulty:
Step 1
The first step is to create a circle of diameter 2.8 inches from the PP rope.
Step 2
Now, you have to tie a succession of knots around the two filler cords.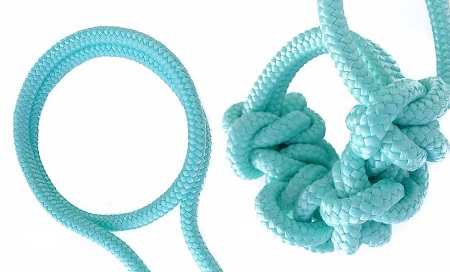 Step 3
Using the two ends of the ropes, tie a right-handed overhand knot (right knot over the left one).
Step 4
Now, turn the toy around. In the same way, tie another similar knot. Then, turn the toy around again. This time you will have to tie a left-hand half square knot.
Now, turn the toy again, and tie one more left-hand half square knot on the other extreme.
Step 5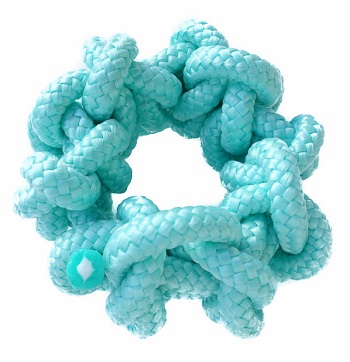 You will have to continue tying the knots until the filler rope is completely covered with it. Lastly, just cut off both the ends of the ropes.
3. DIY Flossy Rope
This Flossy Dog Rope toy is a perfect toy that you can easily make using materials already available in your home. So, you do not have to go down to the store, and you do not have to spend a single penny. It can even be used as a chew toy.
Isn't that simply amazing?
DIY flossy dog rope toy is the best way to use your old clothes while making sure that your dog also has fun playing with it.
You will need:
T-shirt yarn of 3 colors
Tennis Ball (Optional)
Difficulty:
Step 1
Firstly, cut four strips of three nonidentical colors of your T-shirt yarn. If you do not have a used t-shirt, you can even buy yarn from craft shop. The fabric strips should be at least 3/4 inch. You can go for a thicker inch, if you wish. Stretch the fabric strips to make them into rope strings.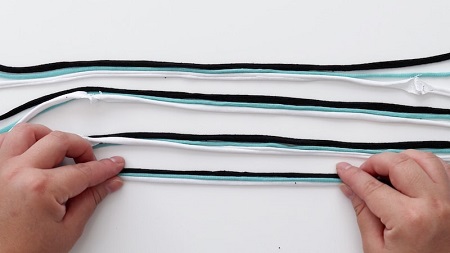 Step 2
Separate the strings into 4 different groups of the 3 different colors. Tie a loose knot at the top of the strings and braid each group. Make sure that you tie a loose knot at the end of the string also.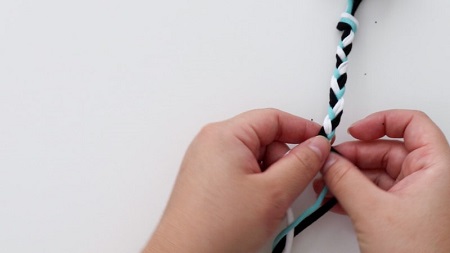 Step 3
The next move is to tie all the 4 braids together at one end. After doing so, undo the loose knots once the braid is secure.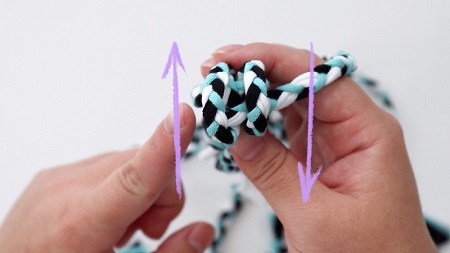 Step 4
Now, weave the 4 pieces of braided rope in a box knot together. You have to start by splitting up the braids in to a plus design. Now, form two loops, by pulling the top rope down and the bottom rope up. The left rope should weave over and under. Repeat the same for right rope.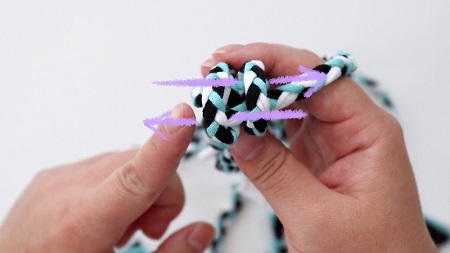 Step 5
Keep pulling all the four braids, until you can see a square forming. Now, you need to tighten them until the braids are laying flat. Creating the first knot and the base is a little difficult. Once you do that, creating the other knots will be much easier.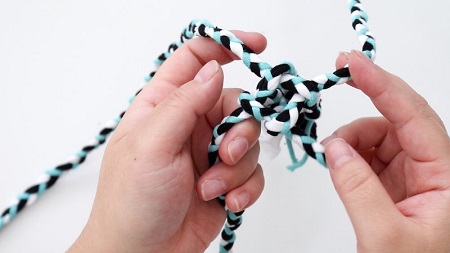 Step 6
You need to continue doing so until you reach the end of the rope. Lastly, untie all the individual braids and then tie all the rope together in a knot and that's it.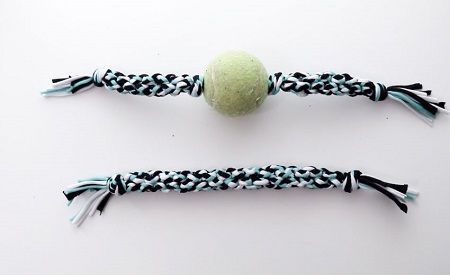 Adding a tennis ball at the center of the flossy rope is optional, but if you wish to add it, you will have to follow a few more steps.
First, cut a hole on both sides of the ball from which your rope can easily pass through. You will need four braided rope pieces that has been tied together on one end. Using a small fabric, tie a knot at the center of the strand to get an idea of where the ball will sit.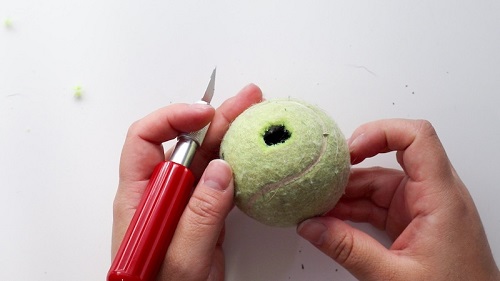 The rest of the weaving process is the same as I mentioned above. Once, you reach half way, tie a tight knot and secure the braids. Now pass all the four rope strands through the tennis ball one after the other.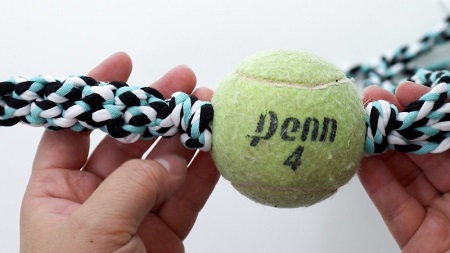 After that, tie a big knot on the other side of the tennis ball before you start weaving, in order to keep the braids secure. Now, continue the weaving process and complete it as we would do it earlier.
And, Tada… Your Flossy Rope Tug Toy is ready for dog!
FAQs
What kind of rope is safe for dogs?
The perfect dog rope toys depends on whether he is an aggressive chewer or not along with his age.
A heavy chewer will need a thick and strong dog rope toy that will not break easily. Whereas, if your dog is not an aggressive chewer, you can choose a normal rope that is sturdy, yet not very thick.
For small pups and average sized dogs, use ½ inch to ¾ inch thick rope. Whereas, for large dogs, use at least 1.5 inch thick rope.
Choose a rope that is most suitable to your dog, so that you do not have to make dog rope toys again and again.
Is it OK for dogs to eat rope toys?
Dog rope toys in itself are safe.
Dog rope toys are suitable for heavy chewers but never leave your dog unsupervised while he is chewing the toy. Also, always keep rope toys in a place which is not reachable for your dog. Never keep it lying loose on the floor.
If you see that your dog is pulling out and eating the strands of the rope toy, immediately take it away. Because if your dog eats the strands, it can be very aching for him.
Always supervise your dog while he is busy playing with his rubber toys and chew toys.
What happens if a dog eats rope?
If your dog eats up a piece of dog rope like a noodle, it can cause great trouble and pain to your dog. Thus, you need to be very careful, while your dog is playing with his rope toys.
If your dog slurps a long piece of rope down, it can go as far as upper intestines, while one of its end will remain stuck in his stomach. The rope strand will tighten as your dog's digestive system will try to move the rope through his stomach.
This is extremely aching for your dog. This will need your vet's attention otherwise your dog will develop lacerations in the intestinal wall.
Simply chewing a rope toy can also be harmful even if your dog does not eat a full strand of rope. It can cause intestine blockage.
Conclusion
Almost all dogs are choosy and picky about their toys, and they even get easily irritated with them.
Which is why, it does not make sense to spend all your savings on dog rope toys. Instead, DIY their toys, so that your dog can have as many toys as he wants, without you spending a lot of your money.
I hope, you found this tutorial on how to make dog rope toys helpful.
Note: If you have a heavy or aggressive chewer, make sure you use a rope material, that is thick and can not be broken easily. Make sure that you have a rope whose strands do not come out easily.
If the strands come out easily and your dog eats them, it would be very painful for him.
Let me know, in the comments section, how was your experience making this toys for your loving dog.
References: