In this article, I have shared 8 easy yet creative ideas to make and DIY dog diapers at your home without any hassle.
Won't our life be amazing, if we did not have to waste so much of our money on something that we ultimately had to throw?
Won't it be easy, if we could use something that is waste, to absorb your dog's waste?
Why purchase something new only to collect your dog's unpleasantries?
What if I say, yes, that is possible?
Okay! Okay!
No more why, what and won't! No more beating around the bush.
Let's directly start with the 8 DIY Dog Diaper Ideas on how to make dog diaper!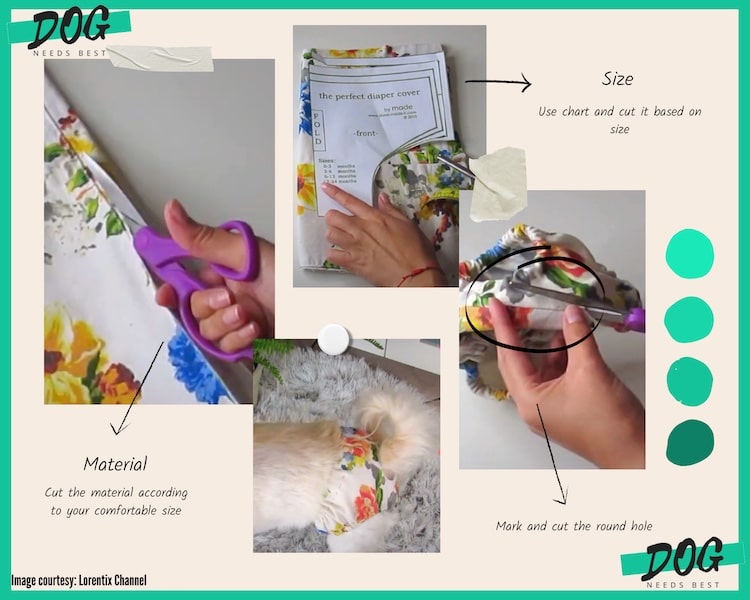 What are you waiting for? Join in the fun and read the blog.
Make Dog Diapers at Home, Your Easy – Peasy DIY Guide
In most of the cases, you will be able to make homemade dog diapers using the 'Best Out of Waste' technique.
With doggy diapers, 'Simplicity is the Ultimate Sophistication. Also, the very main reason why you need to make dog diapers at home is because it costs you less. So, it does not make sense if you will have to break your piggy bank on dog's diapers.
At the end of the day, it is only going to contain unpleasantries.
Let's head on to our easy-peasy DIY Dog Diaper guide.
1. Disposable Children's Diaper
Yes!
You read it right. You can absolutely use your children's diaper to make your dog's diaper.
Both the diapers are almost the same, just that your baby does not have a tail! (Joke intended)
Baby DIY dog diapers are a lot cheaper as compared to dog diapers. Also, they are very convenient because they can absorb more urine and can withstand feces in a better way.
You need to select a baby diaper or pull-up that fits your pup's waist correctly. Cut a hole to make some space for your dog's tail and there you go! You have your DIY dog diaper ready.
You can use either a disposable or reusable diaper, but I would suggest you to go for cloth diapers as they are more eco-friendly.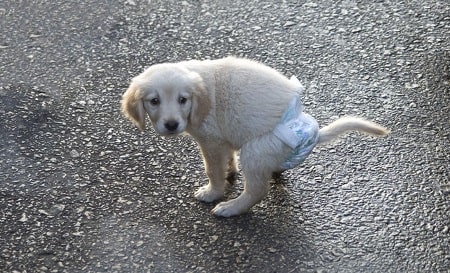 Level of Difficulty:
Tools Required:
Supplies Required:
2. Baby Onesie Diaper
Baby Onesie Diaper are for dogs who keep on tearing and removing their diapers. You can make a super amazing bodysuit diaper for your dog using a baby's onesie. This kind of bodysuit will make sure that the diaper is secure.
Baby Onesie Diaper is more comfortable than other diapers. It also fits well. Creating a baby onesie DIY dog diaper is easy.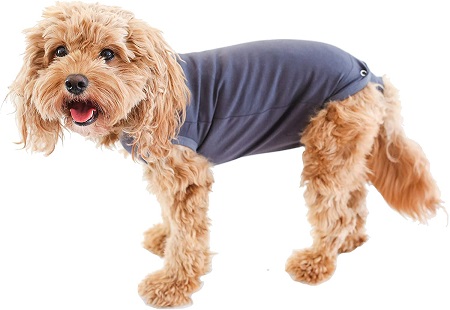 Take a baby onesie, pierce a small hole for your dog's tail and that's it. You have your baby onesie washable dog diaper ready. You can even cut the armholes for wiggle room. Let your dog have some free movements.
This is the best DIY dog diaper for small canines. I would recommend you not to use heavy fleece, for better results.
Level of Difficulty:
Tools Required:
Supplies Required:
Baby Onesie
Sanitary Pad (Optional)
3. No – Sew DIY Diaper
The No – Sew DIY Diaper technique is for those who are new to the DIY World. This is one of the easiest technique, and it does not require any fancy materials.
The materials required to make this type of DIY dog diaper might be lying around in your house. Take a children's underwear that would rightly fit your dog's waist, cut a hole where your dog's tail will go, align the sanitary pad, and it's done.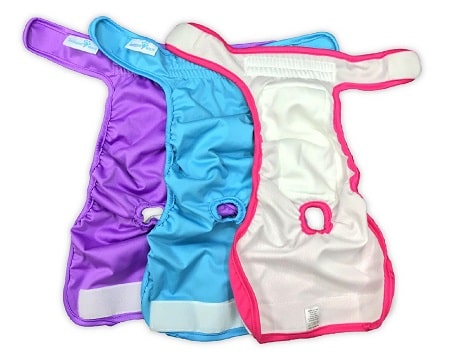 This design is most suited to a female in heat. As, the sanitary pad will help stop the blood leakage. For everyday usage, this diaper is not much useful because a sanitary pad will not be able to absorb more urine and feces.
Level of Difficulty:
Tools Required:
Supplies Required:
Sanitary Pad
Children's underwear that will fit your pup's weight
4. Pee Pad Diaper
A pee pad DIY dog diaper is for large dogs, and for those dogs who are very active. These are disposable and easy to make diapers. Once, the diaper is used you do not have to make added efforts of washing it.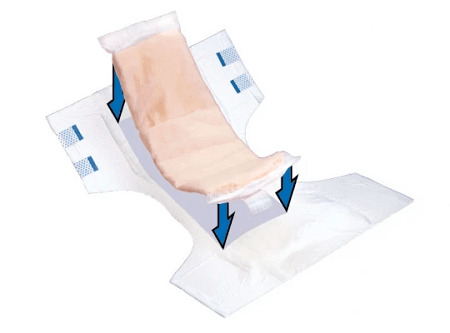 A disposable diaper is a great choice for dogs who are easily prone to infections.
To make a pee pad dog diaper, cut the dog pee pad in hourglass-shaped. It should be big enough to cover your dog's bits and rear. Then pierce out a section for your dog's tail. Once the diaper is ready, secure the open ends it with tapes.
Make sure that the tape does not come in contact with your dog's fur or skin.
Level of Difficulty:
Tools Required:
Supplies Required:
Pee Pad
Secure Tape or Velcro
5. T- Shirt Diaper
Yes, a DIY dog diaper from your t-shirt. Trust me, it's not gross, it is real cute.
This is again a no sew technique, you will just need some t-shirt folding panache. You can use any of your t-shirt as they are very absorbent. Adding sanitary pad is optional, but it would be good if you keep it in the design.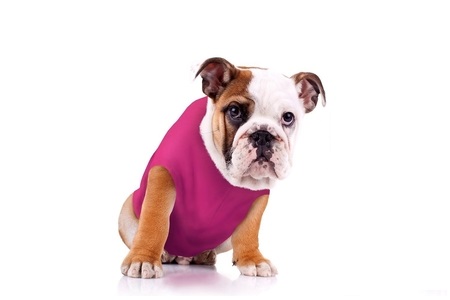 Lay the shirt flat, fold one of its side. Align the sleeves along with the center of the collar. Repeat the first fold, fold the other side over, and then fold the upper portion downwards so that you are able to create a "T" Shape.
Now, fold the bottom so that the shirt can meet the bottom of the sleeves. This is to shorten the sleeves for proper diaper length. Now, put the t-shirt upside down, then secure it by twisting the sleeves up by tieing a knot or pinning in place.
Level of Difficulty:
Tools Required:
Supplies Required:
An appropriate size t-shirt
Sanitary Pad (Optional)
6. Sock Diaper
Who does not have an extra pair of socks lying around in their house?
This sock diaper is easy-to-make and is quite innovative. Sock diaper is a reusable DIY dog diaper idea, which works best for small little pups.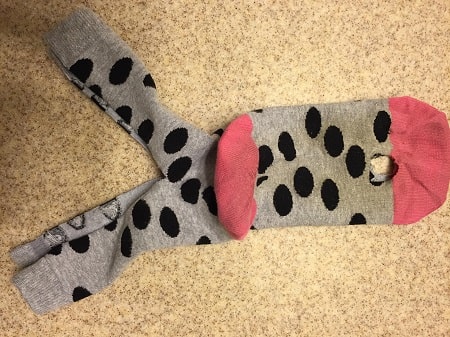 First, make a small hole for your dog's tail on the toe side of the sock. Cut the hole in a way that you can see through it. Now, cut the ankle portion in half almost to the heel.
Furthermore, loop the hole over to your dog's tail and pull both the side of the split ankle portion around and under your dog's hind leg.
Make sure it has adjusted well and then tie each side securely but not too tight. You should be able to slip two of your fingers beneath it comfortably. You can place a sanitary pad inside for better absorption.
Level of Difficulty:
Tools Required:
Supplies Required:
Adult Sock
Sanitary Pad (Optional)
7. DIY Diaper For Female Dogs
Female dogs need more secure diapers as compared to male dogs especially during their pro-estrus period. You can convert a baby diaper into a comfortable female homemade dog diaper.
Start by widening the width of the dog diaper by scissors, so that your dog can have more range for movements. Now, pierce a hole for your dog's tail. You will have to use fabric tape in order to seal the cloth where you slit the tail hole. This will ensure water-tight seal that will keep the absorbent material inside.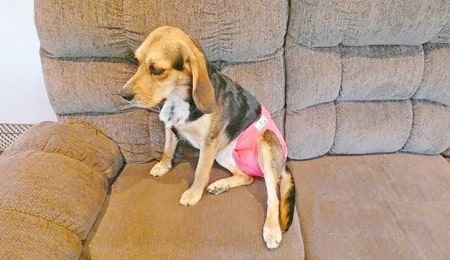 Tada! Your female DIY dog diaper is all ready.
Level of Difficulty:
Tools Required:
Supplies Required:
Kids Diaper
Fabric Tape or Velcro
8. Man's Brief
Man's brief is the easiest of all because you will not even have to make a hole for your dog's tail. It already has a fly which will allow your dog's tail to pass through it directly.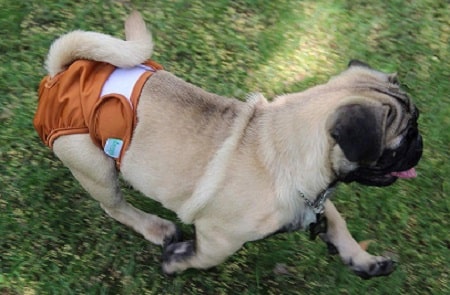 Just put the brief's in the backward direction, pass your dog's tail through the fly, and you are ready with a brand-new DIY dog diaper.
Wasn't this the easiest?
Level of Difficulty:
Tools Required:
Supplies Required:
Safety Tips to Follow
I firmly believe what F.S. Hughes has to say on safety. He says, "Safety brings first aid to the uninjured."
Although, to make a homemade dog diaper at home is quite cheaper, but it can cost you dollars if you do not keep your dog's safety in mind.
So, while you get your hands ready to make some cute diapers for your doggie, make sure you keep in mind these 4 safety tips.
Better be Safe Than Sorry
We all have heard this quote hundreds of time, but it still is one of the most relevant one. Always use secure and reasonable materials to make your dog's diapers.
The materials should be harmless and dog-friendly. Keep in mind whether you want to make disposable or reusable diapers.
Accordingly choose the materials for your DIY dog diapers. Trying choosing materials that are eco-friendly as they are good for your dog as well as the nature.
Trick or Treat
If your dog could speak, he would say 'Trick or Treat' the most! Don't you think so?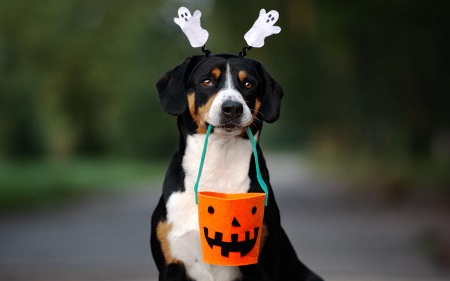 In the initial days, when you first start to put the diaper on your dog, make sure you monitor him. Most dogs don't like diapers, and they would start behaving destructively.
Thus observe him, and give him some treats when he keeps the diaper on.
Be Sure With Numbers
It is all about the right size.
If you do not make dog diapers of the right size, your dog will not be comfortable wearing the diaper, and he will try to remove or tear the diaper.
If you make a dog diaper that is large, it will fall off whereas if you make a diaper that is small, it will tear out with your dog's movements.
Measure his waist size and tail diameter correctly. Start cutting the material, only after being 100% sure of the size that you have measured.
Did You Know?
A very tight DIY dog diaper can cause skin problems to your dog.
So, make sure that you make your dog's diaper of perfect size.
Tape it With Care
This one is also very important.
If you are using secure tapes to either make the diaper or secure the open ends of the diapers, make sure that the tape does not stick your dog's skin or fur.
It will be highly painful when you will remove the tape, and it can even cause skin irritation as well as skin problems.
FAQs
Can I DIY my dog's diaper?
Yes Absolutely!
It is always good to save some money. To make dog diapers at home is super easy and does not involve a lot of costs. So, it is great if you can make diapers for your cute pup all by yourself.
You will not need to make any expense of buying materials to make diaper as most of the things required will already be available at your place.
You might need material such as scissors, sanitary pad, underwear, baby diaper, fabric tape, and/or socks.
Can I use human diapers on my dog?
Yes Definitely.
Many pet parents feel that dog diapers are really expensive as compared to a baby diaper. So, you also can use human diapers on your dog. You just need to make some space for your dog's tail in the diaper.
So, measure the diameter of your dog's tail and make a hole in the diaper so that your dog can easily move his tail, wagging his tail and dance around. Also, keep in mind that you purchase the right sized diaper for your dog.
What can I use as a dog diaper?
There are so many things that you can use for making your dog's diaper at home. Buying dog diapers can be expensive because you need to change your dog's diapers very frequently to avoid any infection in your dog's fur.
Most pet owners want to look for substitute of dog diapers.
You can use baby diapers, socks, underwear, sanitary pad, bedsheet, towel, men's brief, t-shirt and/or shirt.
All of these material will make amazing and comfortable DIY dog diapers that can be used to make dog diapers easily and quickly.
Conclusion
Easy-Peasy, Right?
I am sure, you are going to have a lot of fun time making your very own DIY dog diaper as much as you had while reading this article.
Try all the techniques and see which one works the best for you!
Want some more fun?
You have all the freedom to even give a brand name to your DIY dog diapers. After all, you are its creator, and you deserve it.
My personal favorite DIY dog diaper idea is the 'Sock Diaper' and 'Man's Brief Diaper'. Let me know in the comment section which one is your favorite DIY Idea.
References: