If you have recently adopted a dog, it is imperative to know about their food requirements, among the other important factors. You must know how many cups in a pound of dog food. Let us help you save some research. There are around four cups in a pound of dog food.
So, before you spend a fortune on your dog, learn the breakdown of the dog food. Not only will this have a positive effect on your dog, but also help you save money in the long run.
How Much Food Does Your Dog Need?
Before you go on a shopping spree, you must have in-depth knowledge about your dog's food requirements. Broadly, this can be decided based on the following criteria:
1. Breed
The breed of your dog plays a major role in deciding the amount of required food. Every breed has a variety of nutritional needs, and that can be determined by reading the information on the dog food package.
2. Special Needs
If your dog is suffering from any illness, the dog food needs to be tailored accordingly. You can consult your veterinarian for the same.
3. Age
Your dog will probably change his/her required food quantity at different stages of life.
4. Activity
If your dog keeps running around all that, it is obvious that you will have to provide more amount of food. But this should be managed to avoid any obesity.
Read More: Is Your Puppy Ready for Adult Dog Food?
How to Calculate the Cups?
Coming to our main question, "how many cups in a pound of dog food?". We need to have a breakdown of the calculation process. Let us take it step by step for a better understanding.
It is common knowledge that there are 16 ounces in one pound. As a medium-sized cup can hold around 5 ounces of food, it averages up to a little over 3 cups in 1 pound. So, it can be concluded that there you get around 4 cups from a pound of dog food.
Kindly take note that we are talking about dry dog food. Considering this, we can easily calculate the different weights.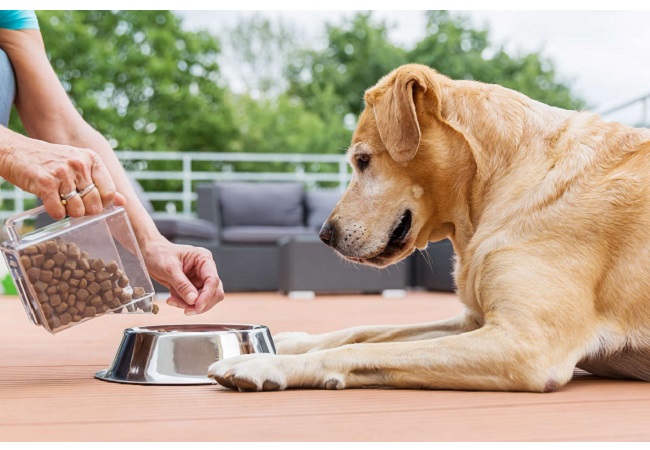 How many cups are in a 5 pound bag of dog food?
If we go by the same calculation, there are around 80 ounces in a 5-pound bag and 5 ounces in 1 cup. Thus, you will get 16 cups of dog food in a 5-pound bag.
How many cups are in a 15 pound bag of dog food?
15 pounds carry 240 ounces, and with 5 ounces in one cup, you will get around 48 cups of dog food from a 15-pound bag.
How many cups in 20 pounds of dog food?
There are roughly around 320 ounces in 20 pounds. This means that you will 64 cups of dog food from a 20-pound bag.
How many cups in 25 pounds of dog food?
25 pounds equal to 400 ounces, giving you 80 cups of dog food from a 25-pound bag.
How many cups in 28 lbs of dog food?
There are around 448 ounces in a 28-pound bag. This will give you around 89-90 cups of dog food from a 28-pound bag.
How many cups in 30 pounds of dog food?
A 30-pound bag carries 480 ounces, which means that you will get 96 cups of dog food from a 30-pound bag.
How many cups of dog food in a 40 pound bag?
There are 640 ounces in a 40-pound bag. You can get around 128 cups of dog food from a 40-pound bag.
The aforementioned pounds are some of the most widely sold and popular dog food weights. If you encounter anything else, you can carry out the same calculation process.
Do you know, how long does rawhide take to digest in dog? Rawhide is a strong bone and it could take 3 to 5 days to digest. Get more information here.
How to Know the Number of Required Cups for your Dogs?
If you wish to verify the number of cups, you can do it in the following manner.
1. Veterinarian
A doctor knows the best for your health, and a vet knows the same for your dog. If you are confused about how many cups to give to your dog, you should first ask the veterinarian. They are a specialized and trustworthy source.
2. Dog Company
If you are buying a particular brand of dog food, you can contact them for better information. As they are well-aware of the components, they can provide any required assistance.
3. Trusted Sources
If you are facing any setbacks in deciding the amount of dog food, you can go online and refer to any reliable sources. Make sure that you only rely on trustworthy forums as a single wrong decision that affects the health of your dog.
Read More: How Long Does It Take For A Dog To Digest Food and Poop?
Why Should You Know How Many Cups in a Pound of Dog Food?
We are sure that you love your dog just like your child, and you wouldn't want them to suffer in any manner. Even the most minute things like feeding them extra or less can directly affect their health. Thus, it is pivotal to know how many cups in a pound of dog food so that you can provide the correct amount.
Pet obesity is real and highly alarming. Among all the other factors, overfeeding your pet has the upper hand. So, it is best to get accurate measuring cups so that you can give the appropriate amount of food to your canine.
According to the American Pet Product Association (APPA), the proud pet parents of America had spent nearly $36.9 billion on pet food and treats! So it is well established that we Americans spend a lot on our dogs. But if you are on a budget, you can save money by knowing how many cups you will actually get from a given pound of dog food.
Essential Tips Before You Buy Dog Food
If you are planning to buy the next set of dog food, we advise you to first adhere to the tips formulated by experts in this field.
1. Know your Dog
You must have the proper and well-researched information about your dog's breed. You can consult your veterinarian and ask for their recommendation. Know about the dietary or any special needs of your dogs. This will allow your dog to get all the necessary nutrients for its overall growth.
2. Brand Research
If you have any brand in mind, you must do a thorough examination of its nutritional content. If your dog is allergic to any particular element, you must avoid that product.
3. Buy in Bulk
It is a well-established fact that dog food isn't cheap. But if you work smartly, you can save money in the process. If you buy the food in bulk, you will have to pay less. It is also better than frequently having to go shopping for the same.
4. Keep a Check
To avoid your dogs from falling ill, you must keep a constant eye on your dog. Before giving them any treats, check the calorie intake to avoid any health consequences. Take them to your vet regularly for their health report. Don't let them sit ideal all day, and keep them active.
If you are facing any troubles in selecting the best dog food, our experts have the following recommendations:
1. Blue Buffalo Dry Dog Food
The Blue Buffalo Life Protection Formula comes in a variety of options like adult chicken and brown rice, chicken with garden vegetables, etc. It is also available in different lbs sizes, giving you the liberty to choose what works for you.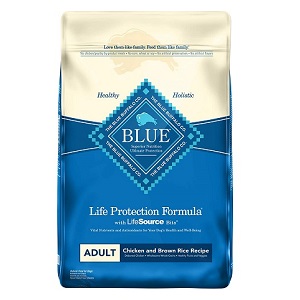 2. Purina Pro Plan Dog Food
The Purina Pro Plan dog food also offers a variety of choices in terms of flavor and sizes. It has a good amount of nutrients that will be beneficial for your dog's growth.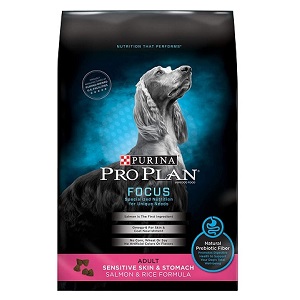 FAQs
How much do 2 cups of dog food weigh?
2 cups of dog food weigh around 10 ounces.
How much dry food should I feed my dog per day?
If your dog weighs around 60 pounds, 3 cups are enough for a day. You can increase or decrease according to their weight.
Should I feed my dog more in the morning or at night?
The timing doesn't matter, but make sure you keep enough gap between the meals.
Summing Up
The main intention behind this blog is to educate fellow pet parents to make the right decisions. Hopefully, now you have a better idea about the number of cups of dog food per pound.
Go for a dependable and decent brand. Your dog doesn't care about how much money you spend, but surely his/her health depends entirely on the quality that you provide.
So, determine the quantity and quality accurately and leave no room for errors. In this way, you can enjoy the company of your best friend for a long period.
Also Read:
When things come crashing down, Tiffany comes to the rescue! As a veterinary medicine graduate, she is the brain behind the in-depth analysis of the products. As an avid dog lover, she is earnestly driven to find the finest options. Any article on DogNeedsBest that has to do anything with your pet's health goes under scrutiny before getting published.