So you are an avid day worker and nightwalker?
Then probably the only time you go out to walk with your pooch is during the night.
And if that's the case then you'll need a good reflective leash.
Well, … You are in the right place,
Here we've discussed the best reflective dog leashes along with some tips that will steer you while buying one for yourself.
Our Top Picks of 2021
Best Overall: BAAPET 5 FT Strong Dog Leash With Reflective Threads
The perfect blend of quality and price as well as features. This leash is thick, strong, sturdy, and long-lasting, not only that it comes at an attractive price tag and a money-back guarantee.
Best in Quality: Max and Neo Double Handle Leash
This 2 mm thick durable leash boasts great quality as well as durability and longevity. Plus you also help to provide a leash to rescue dogs. The leash is comfortable to hold and has padded handles to prevent burns.
Best Budget Pick: Joytale Reflective Dog Leash
The leash is affordable and great for those who are tied to budget. With a comfortable grip and stitching as well as tangle-free swivel this one proves to be a great investment overall.
Check our list of best reflective dog leashes in 2021
How to Choose the Perfect Reflective Leash for Dogs
Reflective leashes for dogs can come in handy if you happen to go out with your pooch in dark a lot.
They are designed specifically for this purpose, they glow in the dark when light shines on the leash.
This makes the dog and owner more visible during nighttime especially in traffic reducing the chances of accidents.
There are certain things to keep in mind while looking for reflective leashes and these imperative factors are discussed in the ensuing paragraphs.
Now, before we get into the factors, it is important to note here that these are based on a normal leash and not specifically for reflective leashes.
This may seem redundant but trust us, we've seen people ignoring them just to get a leash that snaps during their night walks.
Durability
Now, when talking about leashes that too reflective you'll need one that is durable and is resistant to most of the weathers.
For that make sure to look for leash that is made from high-quality nylon and can withstand the trial of time as well as weathers.
Mostly, nylon material leashes are the ones that are available in reflective option and different beautiful colors.
Dog's Size
The size of your pooch will have major importance when you are selecting a leash.
For larger and stronger dogs you will need a thicker and wider leash that can resist all the pulling and strain your dog does.
Though opting for a thinner leash will do great only if your dog is properly trained and doesn't pull tugging you along.
If you happen to have a medium or large dog that gets excited quickly or will for sure lunge towards a squirrel and a bird on the way then it probably best to stick with the leash that is wide and thick enough to mitigate the strain and pull.
Thinner leashes work great for small dogs and medium dogs that don't exert much force.
Training
Now, this also important factor to consider is how well-trained and obeying your pooch is, because this will decide the length of your leash.
If they are still in the training period then it is better to opt for a short leash so that you can teach them heel walking while keeping them under your control.
On the other hand, if your canine is properly trained then it is great to allow them more freedom with longer leashes.
As long as they are obeying your commands and will return to you as soon as you call them out—there should be no problem to use short leashes.
Read More: Best Dog Leashes | Best Leather Dog Leashes | Best Retractable Dog Leashes
Our Favorite Reflective Dog Leashes of 2021
In Nutshell,
Our top pick for the best reflective dog leash is the BAAPET 5 FT Leash With Reflective Threads. Made with the best-in-class material, the BAAPET Reflective Leash is strong and sturdy to walk your dog in style with a money-back guarantee.
We can agree on the fact that most of the reflective dog leashes look pretty dang similar—so selecting the right one for your pooch can be difficult.
So for that and to make your selection process easier, here are the 5 best reflective leashes that are filtered in terms of quality, durability, and customer reviews as well as cost.
The mentioned ones in this rundown are tried and tested by our expert team, so you are bound to get the most optimal one for your pooch.
1. BAAPET 5 FT Strong Dog Leash With Reflective Threads
Just the leash you were looking for, it is affordable, strong, sturdy, comfortable, flexible, and long-lasting. This lead from Baapet is winning the hearts of the customers and with a whooping rating of 4.7—it supports the reputation.
The leash is made from strong durable nylon that can resist most of the weather as well as the test of the time. The leash boasts great control as well as enough freedom for your pooch.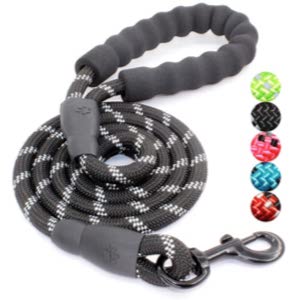 The heavy-duty swivel is bigger and solid than other clips out there in the market. The clip offers 360° tangle free design that offers all the freedom your canine craves.
Features:
Length: 5 ft
Material: Nylon
Swivel: Metal
What We Liked: Perfect reflective leash
The durable double sewing will last more than you'd expect so that's a plus. The plastic cover is also hard and tough to handle all the rough use. Padded soft handle makes it easier to hold and work with.
Pros
The leash is strong, sturdy, and durable as well as comes at an attractive price tag.
The reflective stitching is great makes the leash shine great during night walks.
The padded handle is great and offers a comfortable grip.
Cons
The leash comes with smell, but that can be easily tackled by keeping
Bottom Line:
Thanks to the reflective threads making the leash more safe to use during night time. All the qualities necessary for a perfect leash. Not only that, it also comes with 100% money-back guarantee so that adds up to the quality and trust of the leash.
2. Max and Neo Double Handle Reflective Dog Leash
Max and Neo handle are where people turn to when they need quality as well as want to help some rescue dogs.
For every single leash sold the company donates the same leash to dog rescue which is a great work they are doing. And as for the quality it is unquestionable.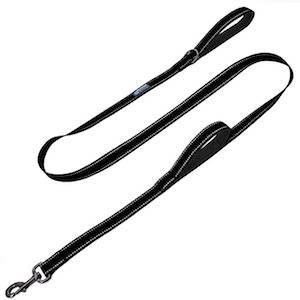 The 2 mm thick leash is webbed with heavy-duty nylon that adds up to the durability and longevity of the product while the robust gunmetal clip offers tangle free swivel.
Features:
Length:- 4 ft
Material:- Nylon
Swivel:- Gunmetal
What We Liked:- 2 mm thick nylon leash
The handle is made from soft neoprene that offers a comfortable grip on your hand and prevents busies. They've offered another handle for traffic and obedience class.
Overall, they are not only providing quality products but also service to dog rescue.
Pros
Quality nylon construction with reflective leashes.
Two handles, one for control, and training, the other for normal leash walking.
Highly reflective stitching that makes it clearly visible during night walks.
Cons
It is a bit costly, but the quality speaks for itself.
Bottom Line:
The stitching used in the construction of the leash is highly reflective making it ideal for night walks. The added D-ring near the wrist handle is great to clip accessories and poop bags. It might be a little costlier as compared to other leashes but its premium quality justifies the price.
3. Joytale Reflective Dog Leash,6 FT Reflective Dog Leash
Well, if you are looking for some budget friendly reflective dog leash then Joytale got your back.
Not only does this leash come with an attractive price tag but also offers great look as well as color and different length.
As for the durability the leash is made from high-density nylon stitching that are made to last long.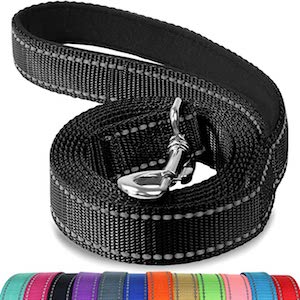 The rust-free and tangle-free swivel is also as durable as the leash so that adds up to the overall durability of the leash.
Features:
Length:- 4ft
Material:- Nylon
Swivel:- Metal
What We Liked:- Simple and durable yet highly reflective leash
The reflective threads used in the leash makes it safe to use during late night walks and runs. Among the tested ones this leash offered a good amount of visibility.
Pros
Strong highly durable stitched leash that comes at great affordable price tag.
The reflective stitching shines during night and offers great visibility.
The padded handle is made from neoprene that has ventilation holes to prevent sweat as well as burns.
Cons
Bottom Line:
As far as the handle is concerned the leash offers a smooth, padded handle that boasts ventilation to keep your hands dry and cool while preventing sweat and leash burns. So overall quality of the leash is great so is the reinforced stitching and reflective thread. A perfect combination of price and quality.
Read More: Beach and Swimming Leash for Dogs | Best Chew Proof Dog Leash in 2021 | Best Dog Leashes for Large Dogs
4. Ladoogo 2 Pack 5 FT Heavy Duty Reflective Dog Leash
The next leash is from Ladoogo which is also a great brand when it comes to delivering quality products…
But what's more, is that they've done an excellent job of providing two leashes at a fair price with a poop bag and a dog trainer clicker for obedience and good behavior training.
Not only limited to that but the leash is made from sturdy nylon and an excellent foam handle that prevents leash burns while offers a comfortable grip.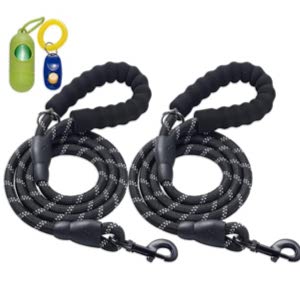 As for durability, the leash is made from strong rock climbing rope as well as a durable tangle-free and rustproof swivel.
Features:
Length:- 5 ft
Material:- Nylon
Swivel:- Metal
What We Liked:- Strong, durable, reflective, and comfortable leash
The leash is made from highly reflective thread that is easily visible in the night and in traffic.
Additionally, it is also available in different colors that are not only good looking but eye catching as well.
Also, it is backed with a money-back guarantee of 12 months which is great.
So overall, for the price and the amalgamation of the features, we think this one is great and can prove to be a smart investment.
Pros
Comes in a two-pack with a poop bag and dog trainer clicker.
Highly-visible reflective thread construction and a strong 360° tangle free clip.
Made from durable nylon and rock climbing rope.
Cons
It is not chew proof so make sure not to let your dog chew the heck out of it.
5. iYoShop 6 FT Strong Reflective Dog Leash
Last but not least reflective dog leashes for dog is from iYoShop dog leash which just looks the same as the previous one but has managed to get the last spot on our list and for good reasons.
The leash is 3 times stronger as well as thicker than other leashes out there in the market. Thanks to the comfortable padded foam say bye to those pesky leash burns, the foam used is 30% thicker.
The plastic protector has high-density stitching inside and the connected swivel is made from heavy-duty metal.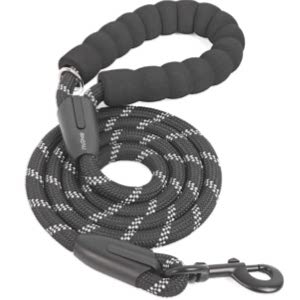 The leash is made from a durable nylon as well as strong rock climbing rope that ensures not only durability but also longevity of the leash.
Features:
Length:- 6 ft
Material:- Nylon
Swivel:- Metal
What We Liked:- 3 times stronger and thicker
The quality and durability of the product is amazing so is the reflective threads used in the leash. It also comes in beautiful color variants that are easily noticiable.
Great for late-evening walks and for training as well as walking & running. Excellent length to maintain the control at the same time offering enough freedom.
Pros
Lightweight and durable great for strong pullers.
Strong durable nylon that will last longer than you'd expect.
Amazing padded handle that offers a comfortable grip.
Cons
Not great with a vest or harness, works perfectly with a collar though.
Read More: Best German Shepherd Dog Leashes of 2021 | Dog Leash for Pullers | The 10 Best Double Dog Leashes & Couplers
FAQs About Reflective Dog Leashes
What are reflective dog leashes?
A reflective dog leash is exactly what it sounds like, it's a leash that is visible during night. They are designed by stitching the leash with reflective threads that shine when lights falls on it so that both the owner and the dog are easily visible.
Are reflective dog leashes safe?
Of course, in fact they are great leashes if you walk during the night time. As they are visible they decreases the likelihood of accidents. Don't confuse reflective leashes as type of leash, they are a sort of feature, else they work and look just like normal leashes.
Who should buy reflective dog leashes?
Reflective dog leashes are great options for those runners who go out with their dog at night. Basically, they are great for anyone who walks or goes out with their dogs during night. Reflective dog leash is also good for hiking and other similar outdoor sports.
How much does the best reflective dog leash cost?
Well, mostly reflective dog leashes cost around $10 to $40, there are brands offering higher than the mentioned range, but we'd recommend to stick with this. As most of the ones we've mentioned are in the same range, yet the best ones out there in the market.
Which one is the top reflective leash for dogs?
Now, the ones we've mentioned in the rundown are hand-picked and tested by our expert team so all them are great in quality. However, selecting the best of the best could be hard but if we had to then it would be none other than "BAAPET 5 FT Strong Dog Leash With Reflective Threads" it is not just the price but also the combination of all the features that are necessary in a leash.
Final Verdict
Nikki Naser, a senior editor, "Some dogs will stand at the corner with you, and then they'll hear a loud noise — a car backfires, a cat runs across the street — and they chase after it. But if you're holding on to that traffic handle, the dog's going nowhere. It's safe with you, next to you."
Well, whether you are going to go for hiking or night jogging with your furry friend, it is better to get a reflective dog leash. Now, given that you are acquainted with the best reflective dog leash.
A recap of our reviews…
Best Reflective Dog Leashes that we reviewed:
When looking for a reflective dog leash make sure that the material is durable and strong enough to hold all the pulling your dog does. And of course it should be highly reflective so that you can easily walk during night.
With that said, should you have any concerns then you know what to do (ask them in the comment section below :P), we would love to connect with you.
Also Read: