So you are looking for the truth about beef meal in dog food?
What will you choose between beef meat or beef meal?
Dogs LOVE beef, not only because of its taste but also as it is a treasure of essential nutrients.
They are omnivores, so it is their basic instinct to include red meat (beef, pork, and lamb), poultry, fish/seafood in their daily diet.
According to the National Pet Owners Survey conducted by the American Pet Products Association (APPA), 63.4% of U.S. households own a pet dog in the year 2019-20.
This gave a significant rise to the sales of dog meals.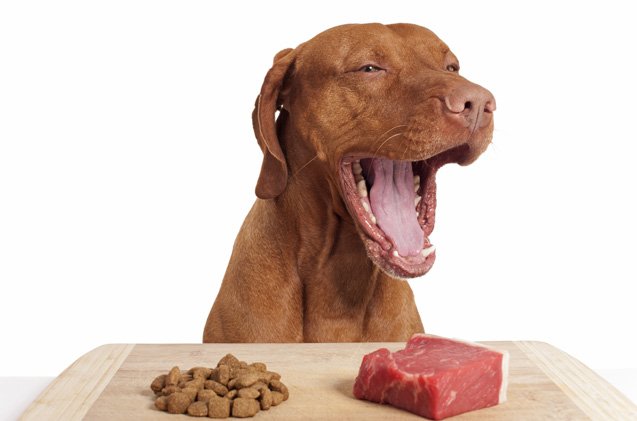 The pet canines in such houses are provided a feast of different types of meat meals- beef, lamb, salmon, etc. A chicken meal in dog food is also one of the best food for your canine as it consists of a great amount of protein with very few calorie counts.
Out of all the types of meals, beef is considered to be a premium option.
Why? Let's find out.
What is Beef Meal?
Beef is the culinary name for meat from cattle, particularly cows and heifers. Basically, it is a skeletal muscle that is being used for consumption for a long period.
Beef meal is rendered cattle meat that has been dried and ground up, and includes clean flesh, skin, and/or accompanying bone. Cattle meat is ground down, melted, and cooked for hours to finally create a powder. Beef meal is safe and nutritious for your dog!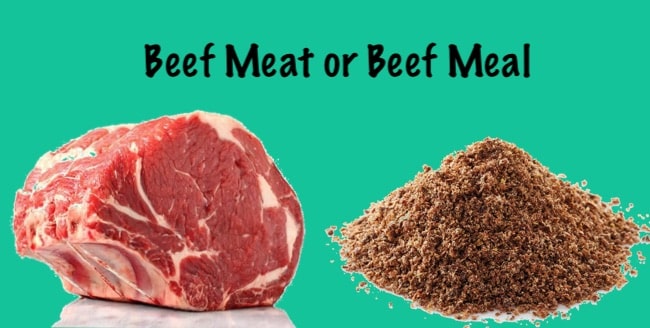 Beef is also included in dog food in the form of beef meal. It is obtained through the process of rendering. After raw beef is rendered, all the excess moisture and unwanted fat are removed. This results in getting an end-product that is abundant in protein. Such a highly concentrated protein powder is known as a beef meal.
Beef meal is often added as an important ingredient to dog foods.
Read More: Lamb Meal In Dog Food | Salmon Meal In Dog Food | Corn Gluten Meal In Dog Food
Myths Surrounding Beef Meal
If you glance through the ingredient label on a beef dog food packet, the first component you would see is a beef meal or beef by-product. It is a common assumption that these are low-grade ingredients and not as healthy as the raw, whole beef. This is a highly publicized myth and as a dog parent, you should know the truth.
In reality, the protein proportion in beef meal in more than raw beef. This owes its credit to the rendering process.
As excessive water is removed during the rendering process, the beef meal is filled with protein. So in reality, the proportion of protein is more in the beef meal as compared to the raw beef.
Why Should You Give Beef Meal in Dog Food?
There have been several assumptions about the beef meal that doesn't have a solid base. But after proper and thorough research, it can be concluded that beef meal is highly beneficial for dogs. Here are a few of those reasons:
1. Protein
According to the Nutritional Composition of Meat, the protein value in raw meat is around 22%. The water content is as high as 70%.
On the other hand, it has been reported that after the beef is rendered, the water proportion is hardly 10% and the protein component jumps to 65%.
As the unnecessary water and fat proportions are removed after the rendering process, the end-product i.e. beef meal is rich in protein. It makes it highly beneficial for dogs.
Fact: Canola oil is a fantastic source of protein and that is why dog food companies add it to other dog products to improve the protein level of that product. Read more about why you should use canola meal in dog food.
2. Hygiene
The rendering process is responsible for converting degradable meats into a more stable and durable form. When the beef is cooked at a high temperature, the deadly pathogens are killed in the process. This makes it a healthy option for dogs.
Raw beef is subjected to certain bacteria that can lead to drastic consequences for the canines. This is not the case in beef meals because of the rendering process.
3. Other Nutritional Content
Besides protein, the beef meal is rich in bio-appropriate amino acids, fats, and several vitamins and minerals. It has a significant proportion of Omega 3 and Omega 6. When such a nutritious beef meal is combined with digestible carbohydrates, like rice, it becomes a crucial source of energy.
Note: Alfalfa is an alkaline mineral and it prevents your dog's body from becoming too acidic. So, you can consider an alfalfa meal in dog food as well.
Factors For Choosing the Best Beef Meal in Dog Food
All the major dog food companies are manufacturing beef meals due to their high nutritious value. This makes it confusing for us dog parents to single out a brand or product. Every dog food will look similar on the face. However, we must have intensive knowledge to segregate the best from the mediocre.
The following are some of the factors that you must keep an eye on while choosing the best beef meal:
1. Ingredient Label
Dog food companies tend to keep their customers in the dark by altering the ingredient label. Generally, they include other plant-based protein elements to enhance the protein proportion. Hence, you must verify at least the first few ingredients.
A qualitative beef meal will have either beef meal or beef as their first ingredient. If it is anything else, it is best to avoid it. You can also read about the rendered ingredients in dog food over here.
2. Names
Certain dog meals are not named accurately. Dog food companies often inculcate vague nomenclature like "meat meals", or "animal by-product meals". This is not a safe or healthy option as it could be the meat of any animal. There is also a possibility of the meat coming from a diseased or roadkill animal.
To steer clear from such meats, it is advisable to opt for a dog food that has specific names like "beef meal".
3. Antioxidants
It is crucial for beef meals to include antioxidants like Vitamins E and A. This helps in supporting the immune system of dogs.
Our Picks for Dog Foods with Beef Meal to Consider
As beef is one of the most affordable protein sources, there are several options available for the same. If you wish to speed up the shopping process, we have our top 3 recommendations for you.
1. Victor Select – Beef Meal & Brown Rice Formula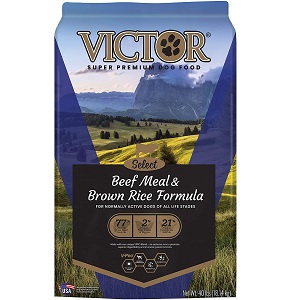 The Victor Select Beef Meal & Brown Rice Formula is for dogs of all ages. It is a premium-quality beef meal filled with the necessary vitamins, protein, minerals, and amino acids. It has been scientifically formulated with its VICTOR core ingredients. These components are responsible to promote a healthy immune and digestive system.
2. Diamond Naturals Beef and Rice Formula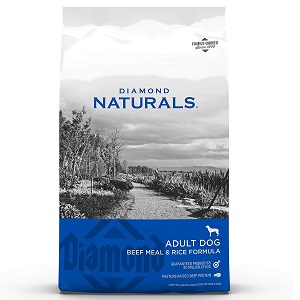 If you are looking for a trustworthy brand that follows the most scientifically advanced food safety protocols, go for Diamond Naturals Beef and Rice Formula. It is made with real pasture-raised beef. Along with the antioxidants, it has a fatty acid blend that is good for the skin and coat of dogs. As it has no corn, wheat, or artificial flavors, it is the ideal and natural choice for beef meals in dog food.
3. Nature's Logic Canine Beef Meal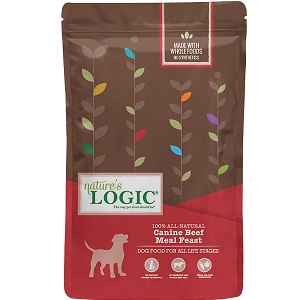 We all yearn to give the best to our dogs. You can do so by providing Nature's Logic Canine Beef Meal. It is a palatable option filled with crucial nutrients. As the kibble is coated with digestive enzymes and plasma protein, this beef meal successfully provides a balanced diet. The first ingredient of the meal is the beef meal, which is proof of its authenticity. It is a 100% natural formula containing dried kelp, blueberries, cranberries, and spinach. This makes it a must-have meal for all dogs.
Do you know why you should use a turkey meal in dog food? It is a lean product and it helps your dogs to build muscle strength and it is one of the highly digestible protein sources and that is why you should add it to your dog food.
FAQs About Beef Meal in Dog Food
Is beef meal good in dog food?
A beef meal in dog food is an excellent choice as it is rich in terms of nutrients. As the beef meal is obtained through the process of rendering, it has a concentrated quantity of protein. This can play an important role in the dog's overall growth.
Is beef by-product safe for dogs?
It is safe for the dog companies to include the by-product of the meat in the beef meal. However, the by-product should be specifically mentioned as "beef by-product".
What is the healthiest meat to feed your dog?
Not only is beef one of the most affordable meats, but also it is very healthy for dogs. It is high in iron, zinc, vitamins, protein, and selenium.
Beef vs Chicken, What is better for dogs?
Beef is considered to be one of the more affordable meats. It is high in protein, iron, vitamins B12, B3 and B6, and zinc. This makes it a healthy option for dogs.
Final Takeaway
Dogs must get the right amount as well as qualitative protein, and what's better than a nutritious beef meal? As it has a high proportion of protein along with fats, carbohydrates, and vitamins, it is the ideal choice for our furry best friends.
So, the next time you visit your local pet food store, make an educated decision, and select the best beef meal for your dog! You can also ask about what is ash in dog food and should they use it or not in dog food.
Also Read:
References:
Meat and Meat Meal: Sorting Through Animal Protein Sources – Whole Dog Journal
The Real Deal on Protein Meal – Chewy Blog
Understanding pet food ingredients – What is a meal (e.g. chicken meal)? – HealthyPetFoods.Co.Nz
When things come crashing down, Tiffany comes to the rescue! As a veterinary medicine graduate, she is the brain behind the in-depth analysis of the products. As an avid dog lover, she is earnestly driven to find the finest options. Any article on DogNeedsBest that has to do anything with your pet's health goes under scrutiny before getting published.