Is Canola Meal good in Dog Food? There are different types of plant-based meals for dogs like the canola meal.
It is common knowledge that dogs are omnivores and carry the capacity to digest plant-based protein.
This is highly useful for those pet parents who are longing to provide a vegetarian diet to their dogs.
As dog food consists of many components, it is necessary to keep a check on all the major ingredients. One of the plant-based ingredients that you'd see frequently is the canola meal. It is a powerful source of protein that is necessary for the overall growth of dogs.
How Is Canola Meal Produced?
Rapeseed is a bright yellow flowering member of the mustard or cabbage family. Canola is the trade name for it.
Rapeseed meal contained high levels of erucic acid and glucosinolates that could cause thyroid dysfunction in animals as well as humans. Consequently, canola was developed as it contained less than two percent of erucic acid.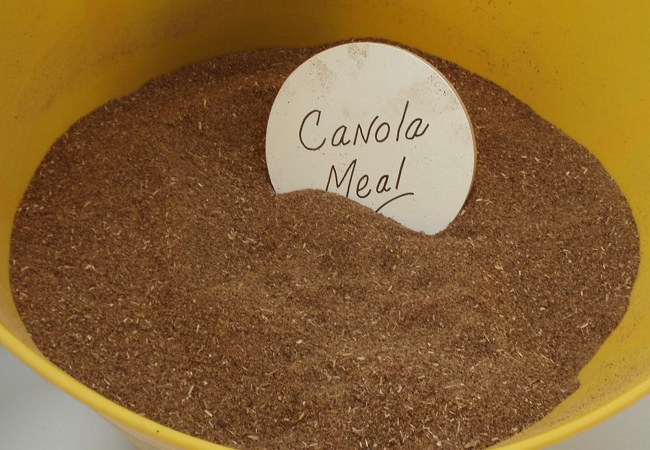 Canola oil is produced by processing the seeds by heating and crushing them. Then, the oil is extracted using a hexane solvent. The process includes seed cleaning, seed preconditioning, and flaking, seek cooking, crushing, desolventizing, and toasting. This oil is further used for making canola meal.
Hence, canola meal is the residual obtained after removing the oil from the canola seed.
Note: You can also read about why ash in dog food is good for your dogs. Read it to know more.
Is Canola Meal Good For Your Dog?
Canola meal is considered to be a source of protein that is rich in essential vitamins and minerals. It also has a good amount of amino acid that helps in building a dog's muscles.
According to the Pet Food Association of Canada, canola meal contains 36% of crude protein and 3.5% of crude fat. Even though fat is considered to be unhealthy in general, it is necessary for your dogs.
So, is canola meal a healthy option?
Maybe not.
It has a relatively low dietary cation-anion difference (DCAD) balance. This makes it unpleasant for dogs. Moreover, it has a high protein concentration. Dog food companies exploit this and combine it with other ingredients to increase the proportion of protein.
Moreover, it is not visually appealing to dogs. Along with the bitter taste, it also has a rancid smell that is not liked by canines.
People also talk about the chicken meal is good for dogs. Find out what is chicken meal for dogs and how it is beneficial for your canine.
Canola Oil VS Canola Meal
Even though canola meals are considered to be a controversial ingredient, canola oil carries a few benefits for dogs:
Lowers the risk of coronary heart disease.
Decreases bad cholesterol.
Reduces bone fractures.
Lowers the possibility of cardiovascular disease and type-2 diabetes.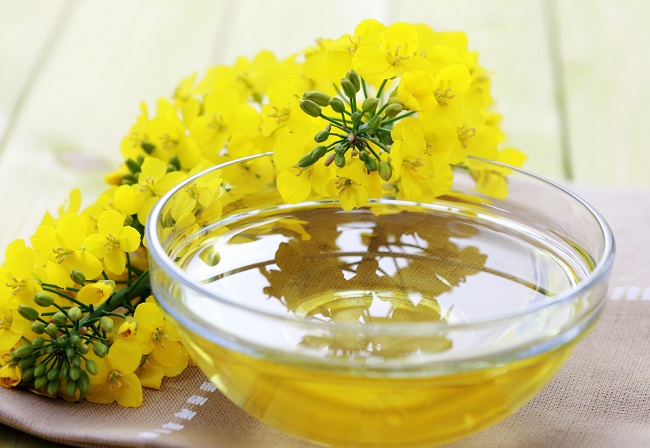 Even though there are no particular toxic repercussions of dog food containing canola oil, it is recommended to go for other alternatives like fish oil or olive oil.
Read More: Beef Meal for Dogs | Best Lamb Meal In Dog Food | Best Salmon Meal in Dog Food
Where Can You Find Canola Meal?
Although canola meal is not regarded to be a premium option, it is combined with other ingredients to provide a balanced diet.
It is used to produce dog biscuits.
Along with that, it is mixed with oat flour, kangaroo meat, animal fat, fish oil, and dried beet pulp to make dry dog food. Similarly, it is also combined with a salmon meal, trout, brewers' rice, tallow, canola oil, fish oil, and brewers' dried yeast.
FAQs About Canola Meal
Are canola meals good for dogs?
As dogs need a qualitative and proportionate quantity of protein in their diet, these criteria aren't fulfilled by canola meals. So, it isn't successful in providing a balanced diet to your pets.
Why is canola oil in dog food?
Canola oil is rich in essential nutrients linoleic acid and oleic acid. This helps in lowering cholesterol, body fat composition, and cardiac diseases. These factors are the prime motivators for the pet food industry to include canola oil in dog food.
Will canola oil hurt my dog?
Preparing your dog's food in canola oil will not necessarily harm your dog. But it is encouraged to use oils like olive oil or sunflower oil.
Where is canola meal used?
Why is canola meal not good for dogs?
As dogs need an abundant amount of protein in their diet, the first few ingredients must be protein. Hence, more proportion of canola meal is not favorable in dog food.
Read More: Best Corn Gluten Meal In Dog Food | Best Turkey Meal In Dog Food | Is Alfalfa Meal Good for Dogs
Summing Up
It can be safely concluded that a canola meal is not the best option for your dogs, However, feel free to use canola oil to prepare dog meals. We won't back away from the benefits that are derived from canola, but for your dog's safety, it is advisable to avoid its regular usage.
As all of us love our dogs and want nothing but the best for our furry best friends. Thus, make good choices and do not buy any dog food or meal hastily.
Also Read:
References:
How canola seed becomes oil and meal products – Canola Council of Canada
The Real Deal on Protein Meal – DogsNaturallyMagazine
Canola Meal and its Uses and Opportunities to Increase Value – U.S. Canola Association
When things come crashing down, Tiffany comes to the rescue! As a veterinary medicine graduate, she is the brain behind the in-depth analysis of the products. As an avid dog lover, she is earnestly driven to find the finest options. Any article on DogNeedsBest that has to do anything with your pet's health goes under scrutiny before getting published.