The contention over the "duck meat in dog food" erupted a few days ago where a few people were claiming that it provides an excellent source of protein where the duck meal was considered to be the bad guy.
We imagined that we'd add our two cents to the conversation and back it up with certain information that is controversial.
Duck meal in dog food is an excellent source of high-quality protein and nutrients and is a way better alternative for sensitive dogs.
Meat on the other hand can prove to be allergic to certain dogs (happens only in rare cases) and it is mostly moisture where the protein intake is less.
What is a Duck Meal?
Duck meal is rendered or otherwise known as cooked down part of the duck, it generally combines clean flesh as well as skin which may or may not contain bone.
It is derived from the pieces of the entire corpses of a duck and with some parts such as the feathers, feet, heads, and guts. It is better than the duck as it is weighed after it is cooked down.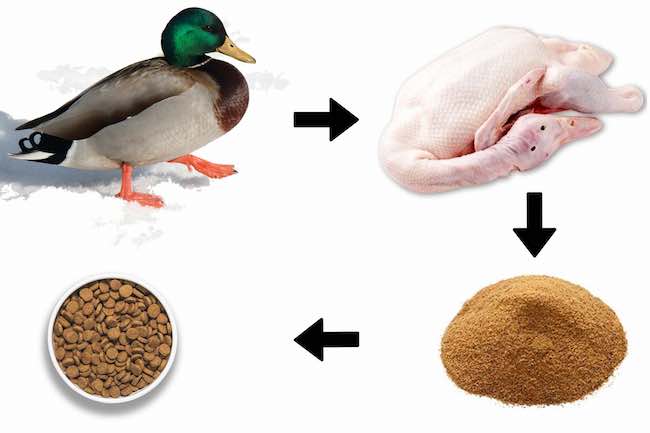 Duck meal is an animal protein that is delivered from fresh ducks and by-products that are obtained from slaughterhouses. In addition to that, the duck meal is created from category 3 duck by-products. What does this imply is the origin of the duck meal is created from the ducks used for human consumption.
Duck meal is generally created by cautiously warming and drying the duck and by-products. This meal is an excellent source of protein for pet food and duck meal can without a doubt be beneficial for your dog.
Read More: Should Dog Food Contain Corn Gluten Meal | Best Canola Meal in Dog Food | Turkey Meal Benefits for Your Dog
Why Duck Meal is A Good Choice For Your Dog?
Well when it comes to discussing the meals of dogs, what would more beneficial than the whole meat as it contains much larger portions of proteins.
If you agree with the above-mentioned information then that is where you are wrong my friend. This may sound counter-intuitive but a meal has a higher protein source than meat.
A high-quality duck meal can prove to be an abundant as well as an excellent source of protein. How?, You may ask.
As you know the duck meal is cooked down or rendered, it is just like cooking but in this case, it is intentionally overcooked so that the water is soaked away, and you are left with a low-fat potent protein powder or also referred to as meat meal and in this case duck meal.
So in fact, you're getting more meat from the meal than you would with a real bit of entire meat.
So how does, this benefits my dog? Normal duck meat contains more portions of water or moisture than protein but in duck meals, it has more proteins, and you can generally expect in some cases around 10 times more proteins.
This means that the more protein the better your dog's health. Not to mention it is easily digestible by your canines and performs decently in the taste section.
Furthermore, duck meals are also a good source of vitamins such as A and B3 as well as some other minerals.
Duck meal is made from perfect, clean, ground tissue, and dried duck. It offers the needed proteins and amino acids for better bone health, muscles, tissue development, skin, and immunity as well as other metabolic processes. Not only limited to that duck meal also provides a great protein source alternative for dogs that are sensitive to other sources.
Note: There are many benefits of ash in dog food. If you are thinking about adding ash to your dog food then you must know the benefits of it.
Why Duck Meal And Not Duck Meat?
There is a discernible difference if you compare the meat and the meal but when it comes to the quality most people are not aware of it.
As you all know by now that most of the meat products contain more water and the meal ones have less water but more proteins.
So when you read the term duck meal it means that it is rendered using high-quality food that helps in digestibility and impacts the overall protein source.
When the duck meal is rendered it decimates disease-causing microbes, and it is the necessary process underway. These protein-explicit meals are often combined with other excellent meats, offering a great and healthy wholesome nutrient supplement for your canine's food.
The ingredients on the pet food are mostly added by weight so even if meat appears first it is just because it contains more water, having said that, the meal might come as second or even third, but it represents the total meat in the recipe.
Read More: Best Beef Meal in Dog Food | Lamb Meal In Dog Food Factors | Things to Know About Salmon Meal
Some Great Duck Meal Dog Foods
Speaking of duck meals here are two great dog foods for your canines which are not only rich in duck meal but also other ingredients that will keep your pup sound safe and healthy.
Nature's Logic Dog Food Canine Duck Meal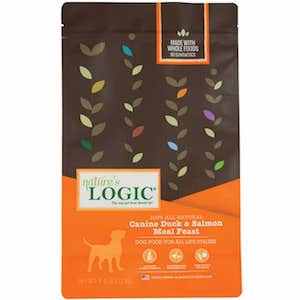 When it comes to pet foods Nature'S Logic Duck Meal is worth considering and for good reasons.
With so many healthy minerals and vitamins, the dog food also boasts a duck meal as their first ingredient.
Not only that they've also added chicken and salmon meal that are great sources of protein for your dog.
The dog food contains other necessary nutrients that boost the immune system of your pup while maintaining the body's functioning and growth.
Salmon meal promotes essential fatty acids and omega-3 that ensures better skin, tissue repair, and metabolism of your canine.
The food is manufactured with 100% natural ingredients and no additives are added. It also comes with enzymes and probiotics that ensures the food is easily digestible.
Earthborn Holistic Venture Duck Meal Dry Dog Food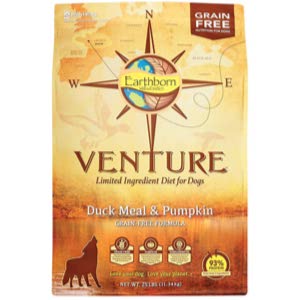 The next is from Earthborn Holistic that offers good and adequate amounts of nutrients and minerals.
The food contains a duck meal as the first ingredient and pumpkin which is known to provide necessary minerals that assist in your pup's natural metabolism.
There are no additives such as gluten, grain, colorants, fillers, and artificial preservatives.
The ducks used for the pet food are from France as the duck is part of the culinary heritage of France. Most of the protein comes from ducks and the rest is occupied by pumpkin and peas.
Overall, it contains all the crucial vitamins and minerals that help better the functioning and body growth of your pooch.
How to Choose the Best Duck Meal?
Now, not all meals are created with the same quality and not all meals are bad. The catch here is to distinguish between the low-quality meals and the high ones.
The first thing that you should look for is how the meals are named to determine the quality. Now, when it comes to nomenclature you should be avoiding meals that are not specifying the source of the protein.
To put it differently, try to forestall the meals that do not specify the exact protein source meaning they will simply put vague terms like an animal meal or meat meal.
This often indicates that the meal has been prepared by other low-quality protein sources and scraps.
It is allowed to put meat meal on the packaging but this doesn't ensure the exact source of protein. So what you can do is to select the specifically named meals as in this case duck meal, chicken meal, or turkey meal and the rundown goes.
This implies that the meal has been created with high-quality regulated products, the companies have to keep these rendered Ingredients segregated and assigned.
So this way it ensures that the product has not been blend with and what you are receiving is a more uniform item with better regulation.
Another thing is, to find out whether the meal is created from an integrated rendering facility or not. There are two types of facilities that are integrated and independent. The integrated facilities work in conjunction with the slaughterhouses and meat plants. They are linked to the USDA (United States Department of Agriculture) inspected facilities. Integrated facilities handle 65 to 70% of most of the rendered material and the rest is handled by an independent facility.
The Independent facility doesn't just use the leftovers of other sites, but they are also (in some cases) not approved with the USDA, so make sure to look for duck meal that is manufactured from the integrated facility.
Note: You can also read about how to find the best dog foods with chicken meal and what are the benefits of it.
Duck Meal in Dog Food – FAQs
Is Duck Meal good for dogs?
Ducks meal are the best source of protein for your dogs. They need amino acid to maintain healthy muscles and better immunity, so duck meal can be a good source for that. It is also an amazing alternative for the dogs that are sensitive to other protein sources and tend to from allergies.
Is Meal Bad in Dog Foods?
Well, it depends on the quality of meal you are looking for, certain meals are made from high-quality, and they can provide a ton of nutrients to your dog. With that being said, make sure to avoid meals that are not specifying the source of protein like meat meals or animal meals. These are manufactured from low-quality meal and often blend with other materials.
How is Meal made?
Aforementioned it goes through a process of rendering which is just overcooked till most of the water is vaporized. And what you are left with is a highly concentrated protein, previously the whole meat was containing 70% water and 18% protein. The meal will reverse the ratio, and you will get around 60 to 70% of protein and about 10% of water.
What are some instances of good meat meals?
When looking for a good meat meal you should make sure that the protein source is mentioned like in this case it is duck meal, for some other products it could be chicken meal, lamb meal, beef meal, venison meal and so forth. This indicates that the product is made from high-quality items, and it doesn't include any blend of different scraps.
The Final Note
Feeding duck meal is totally your preference, given that you are now aware of the facts it is not a bad choice. Duck meal can prove to be an excellent source of protein and nutrients. Unlike meat, it doesn't just contain water but a good level of protein.
When looking for a duck meal make sure to avoid the ones that are not name specific and also check where the meal has been manufactured, is the facility integrated or independent. Also verify whether the facility is USDA approved or not.
Overall, duck meal is an excellent alternative for dogs with some kind of allergies to other proteins sources, and it is way better than whole meat. It develops your canines muscles and immunity system as well as leave them with some more minerals and vitamins at the same time performing well in the taste section.
Also Read:
References:
Healthy Foods Checklist: Duck for Dogs – PetMD
Duck as food – Wikipedia
Benefits of Duck Dog Food | Purina
When things come crashing down, Tiffany comes to the rescue! As a veterinary medicine graduate, she is the brain behind the in-depth analysis of the products. As an avid dog lover, she is earnestly driven to find the finest options. Any article on DogNeedsBest that has to do anything with your pet's health goes under scrutiny before getting published.