So you are looking for the truth about chicken meal in dog food?
What will you choose between chicken meat or chicken meal?
But before you make your choice believe it or not the latter one has more benefits.
Now, this might sound against your instinct, but it is true.
And if you are looking for some protein-rich food for your pup then a chicken meal is just what your canine needs.
You see chicken meal in dog food is around 70 to 80% protein when compared to its meat counterpart. It poses many health benefits to dogs that would otherwise not possible with chicken meat. But that's not all, read along to find out more.
What is Chicken Meal?
Chicken meal is mainly used in pet foods. It is rendered chicken meat whose protein content is higher compared to chicken meat because while cooking most of the water is removed.
Chicken meal is rendered or otherwise known as cooked down chicken meat that is made from fresh, ground up, and clean flesh chicken.
It can be with or without bone.
So if you see chicken meal listed as an ingredient on your dog food then it generally means that it is made from chicken meal, which is made from a blend of flesh and skin (and sometimes bones too) of the chicken.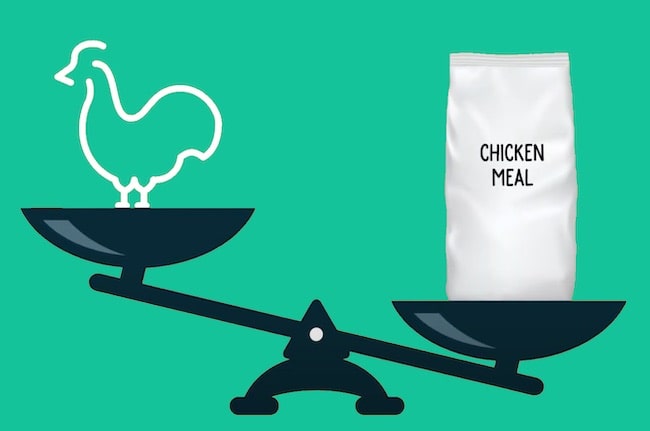 Chicken meal is a good mixture of adequate levels of dry and wet ingredients which ensures that the dog is receiving nutrients in balanced form. You can also check out the shocking truth about rendered ingredients in dog food.
The grinding and drying process of chicken meal produces a concentrated protein source.
Chicken meal is a common ingredient used in many of the commercial pet food.
Is Chicken Meal Good for My Dog?
Of course, chicken meal is an excellent source of protein that is the building block of life.
Normally it would not contain high amounts of protein in the meat version thanks to the rendering process you get a highly concentrated protein-rich chicken meal.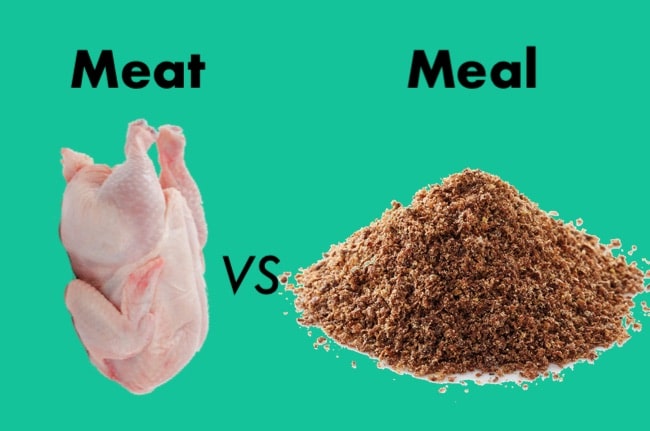 This protein helps to build immunity and muscles as well as better joints.
Besides that, chicken meal is a good source of different minerals and nutrients like glucosamine which boosts bone health.
Dog foods that contain chicken meal as their first ingredient also have many added nutrients and minerals that promote better health.
Additionally, chicken meals or other poultry meals are a great source of omega6 fatty acid that helps to maintain good skin health and keep your canine's coat looking shiny and glossy.
If your dog is sensitive to other protein sources like duck, lamb, salmon, turkey, and so forth then chicken meal can prove to be an excellent alternative.
Long story short, incorporating chicken meal in your pup's diet is going to boost his health.
Do you know what is the importance of a beef meal in dog food? Read more about why you can consider a beef meal in your dog food.
Our Picks for Dog Foods with Chicken Meal to Consider
When talking about chicken meals here are two great products in the market that will promote the health of your little furry companion.
They are rich in protein and other necessary vitamins that are essential for your canines growth.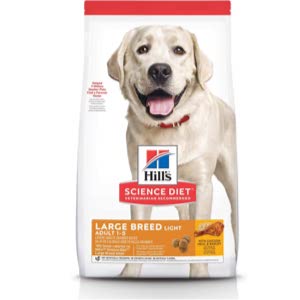 Hill's Science Diet Chicken Meal Dry Dog Food
Hill's Science is the most famous brand when it comes to delivering quality pet foods that are not only digestible but also highly palatable.
It is manufactured in the USA, and it is mostly recommended by veterinarians.
The food has chicken meal as its first ingredient and other necessary vitamins.
The dry dog food contains L-carnitine which promotes ideal body weight minimizing the chances of obesity. The high-quality proteins and fibers ensure that your pup stays sated for a longer time.
It contains omega6 for better skin health, the food is formulated to support heart health.
With that being said, there are different variations to the same product so make sure to choose the one according to your pup's breed and nature.
Read More: Lamb Meal In Dog Food | Salmon Meal In Dog Food | Corn Gluten Meal In Dog Food
Instinct Raw Boost Chicken Meal Dog Food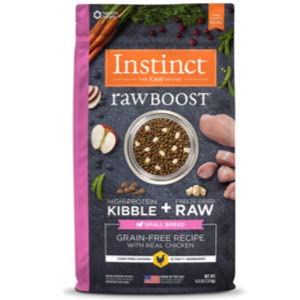 Instinct Raw Boost is the next dog food that you should consider feeding your little fuzzy fella.
Like hill's science this dry dog food also has variations so make sure that you are looking for the one that supports your pup's breed and type.
The food is manufactured with all-natural ingredients and contains no artificial additives or preservatives or any other ingredients that trigger sensitivity or reaction.
The food brings all the necessary minerals and vitamins that are vital for better body functioning and growth.
It also contains minerals like phosphorus and calcium that are great for keeping your dogs bones and teeth great.
Pet food is a great alternative for picky eaters and dogs with a sensitive stomach. It helps to increase energy as well as vitality.
Thanks to the minerals your dog's skin health would not be a matter of concern. It also contains natural antioxidants that prevent the food from going rancid.
Do you know? Venison meal in dog food is packed with so many nutrients that support the health and well-being of your dog. So, read about the benefits of venison meal in your dog food.
Things to Know About Chicken Meal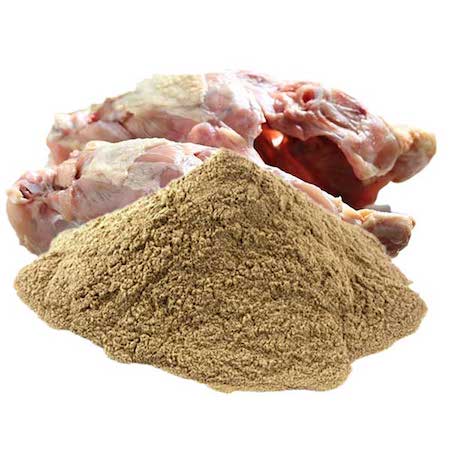 When you are looking for a chicken meal, it is important that you look for the one where the source of the protein is mentioned, and you will read this a ton of time because it is important.
The reason is that not every meal is prepared the same way and the chances of getting palmed off are great.
You should avoid products where the protein source is not mentioned instead some vague terms like animal meals or meat meals are mentioned.
In this case, it should be clearly mentioning chicken meals. This assures that the product is not made from some low items and scraps.
Make sure that your pet is not reactive to chicken as it considered among the foods that are kinda allergic to dogs, so some dogs may be allergic to chicken in that case it is better to feed them with other same poultry meals like a duck, turkey, salmon, and so on.
Fact: You should include canola meal in dog food as it has 36% of crude protein and 3.5% of crude fat and it helps your dog to build muscle strength.
Is Feeding Chicken Meal Safe for My Dog?
Yes, it is safe to feed your dog chicken meal as long as it is not made from low-quality and your dog is not reactive towards chicken.
By low-quality we have mentioned the ones where protein source isn't mentioned.
Chicken meal is great if your dog like chicken as it provides all the needed nutrients for a good healthy life.
Whenever you come across the term chicken meal on your dog's food it generally represents a mixture of clean chicken skin and flesh where bones may or may not be included.
Note: Pork meal in dog food is a great source of amino acids and it is perfect for your dog nutrition. It has a great amount of thiamine that helps in the cell function of your dogs.
Chicken Meal in Dog Food – FAQs
Is chicken meal in dog food better than chicken?
Chicken meal is simply a fresh chicken that is cooked to remove moisture and water to provide a concentrated form of protein. For a matter of fact it consists of more protein than its meat partner, it has around 300% more protein in terms of volume when compared to fresh chicken.
What are the other alternative for chicken meal?
If your dog is sensitive to a chicken meal then there are some different sources of protein that can offer the same benefits. Turkey meal, duck meal, and salmon meal can prove to be an excellent alternative for a chicken meal as they provide pretty much the same protein and necessary vitamins for the growth of your pup. Lamb meal can also be a good choice but make sure that your canine is not reactive to it.
Is chicken meal easy for dogs to digest?
Well, it depends on the dog food you are feeding to your dog. The ones we have mentioned above both are digestible and performs well in the palatability section. Some may prove to be hard to digest, so it is important to check on the details of the dog food.
What is the difference between Chicken meal and Chicken by-product-meals?
Chicken meal as mentioned is made from fresh skin and flesh of chicken, while by-product, on the other hand, is all the leftover parts of chicken that are not used for human consumption. Well, whether it is good or not is a story for another day.
What is Chicken Meal?
Chicken meal is mainly used in pet foods. It is a rendered chicken meat whose protein content is higher compared to chicken meat because while cooking most of the water is removed. It has been dried and ground up.
The Final Note
A chicken meal can prove to be an excellent source of vitamins and other necessary nutrients that are essential for better body functioning and growth. Not to mention, the high-quality proteins and fibers that keep your pooch full and energetic for a longer time.
Chicken meal is the most famous and common ingredient available in dog food, so it might be possible that you are feeding your canine without you being aware. Given the multiple benefits it is not a bad idea, just make sure that your pup is not one of those who abhor chicken.
That being said, any doubts or concerns make sure to leave them in the comment box below, we would love to reach out to you. Also, you can read about what is ash in dog food and what is its importance.
Also Read:
References:
Chicken meal – Wikipedia
The Real Deal on Protein Meal – Chewy Blog
Understanding pet food ingredients – What is a meal (e.g. chicken meal)? – HealthyPetFoods.Co.Nz
When things come crashing down, Tiffany comes to the rescue! As a veterinary medicine graduate, she is the brain behind the in-depth analysis of the products. As an avid dog lover, she is earnestly driven to find the finest options. Any article on DogNeedsBest that has to do anything with your pet's health goes under scrutiny before getting published.